Finally!! Snow!! We haven't had a real snowfall in quite some time. So exciting! Except for the fact that it took hours to dig ourselves out of this and to get the driveway plowed.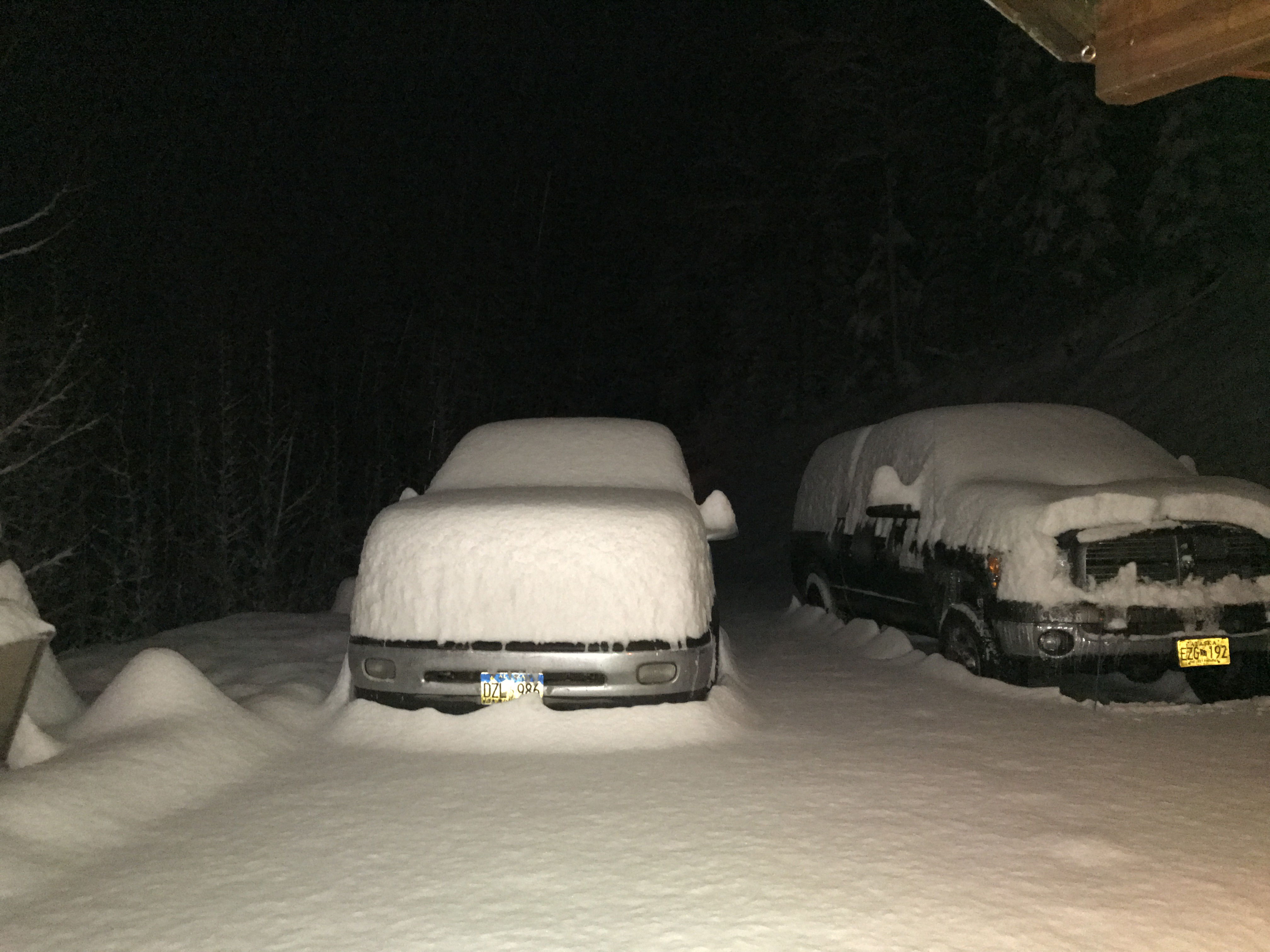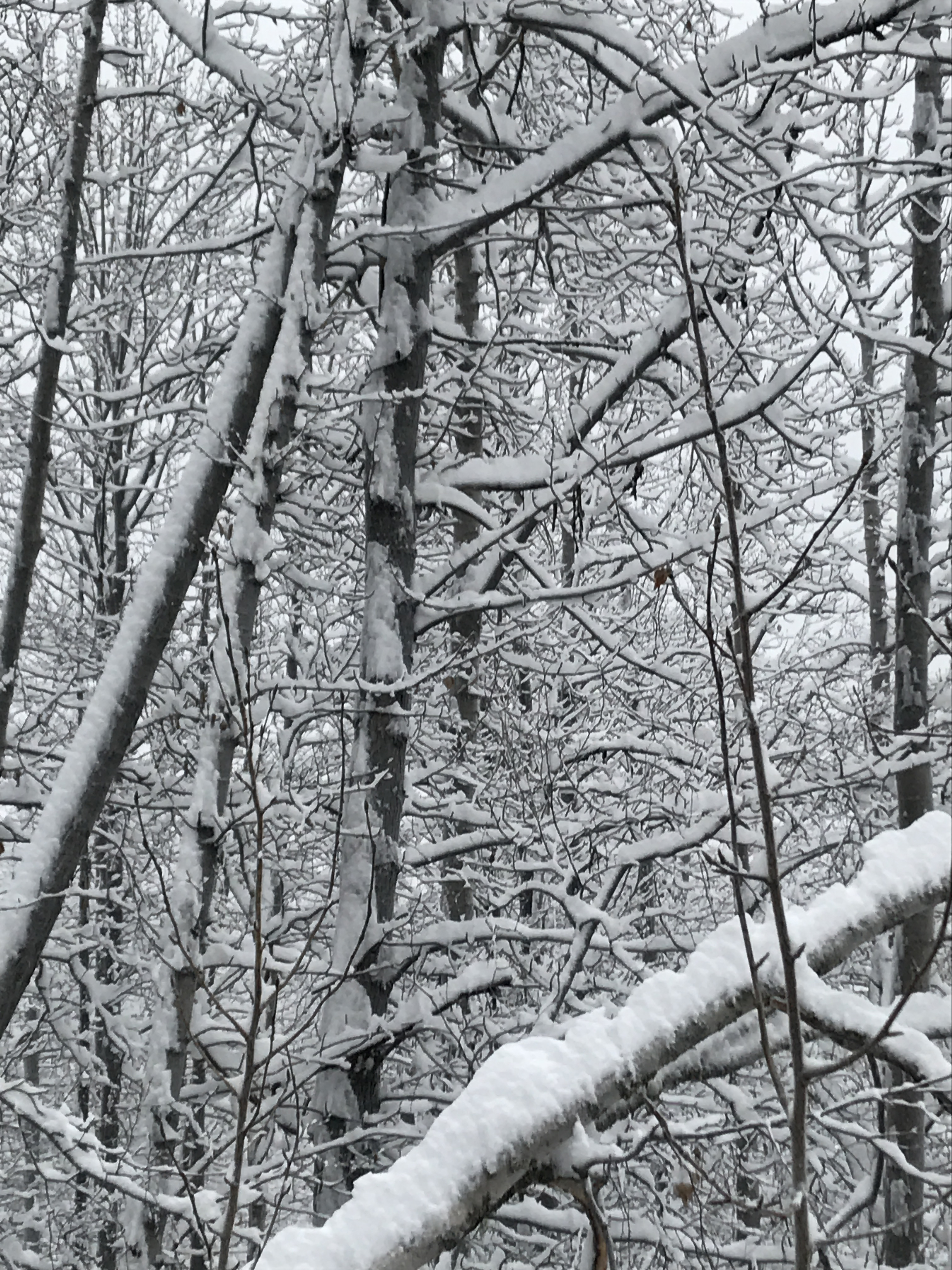 So beautiful. I'm keeping my fingers crossed for somewhat cooler temperatures so the snow hangs around for a bit. At least long enough to get a few cross-country skiing days in which is a great cross-training exercise!!
And cross-training helps to build strength, right? Which is my focus right now in preparation to start training for the Chicago marathon!  I realize that my 18 week training program doesn't even start til June 4th, but this is the time to really focus on building that strength that I am going to need to carry me through those last few miles of the marathon.
I have been running some short distances a few times a week. Here I am at the end of one of those runs. It has been pretty chilly out with some days being just too cold to be out on the trails. I don't like to run in temperatures below 15 degrees usually. It was 13 when I went out on this day and I think I will keep to my 15 or above standard. Two degrees shouldn't make that much of a difference but when it is already this cold out, I feel it! I mean look at me, I have little micro icicles on my face, my hair is frozen and even though I tried to smile, I couldn't! ha ha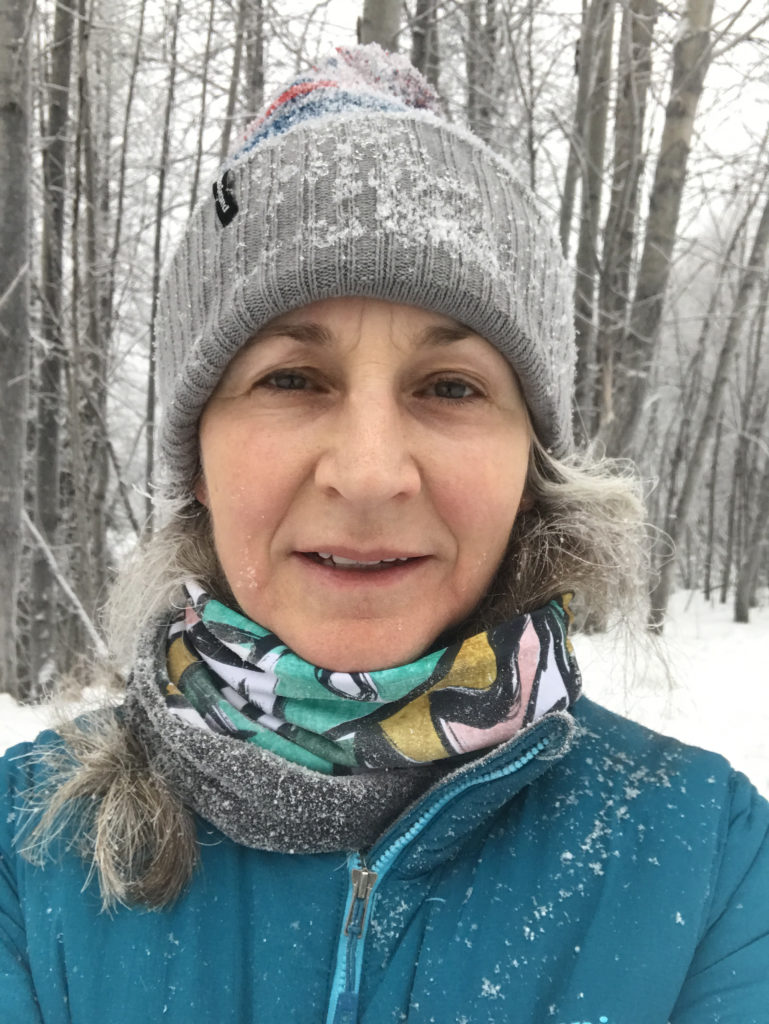 On another day my eyelashes were frozen! And is that early signs of frostbite on my cheek???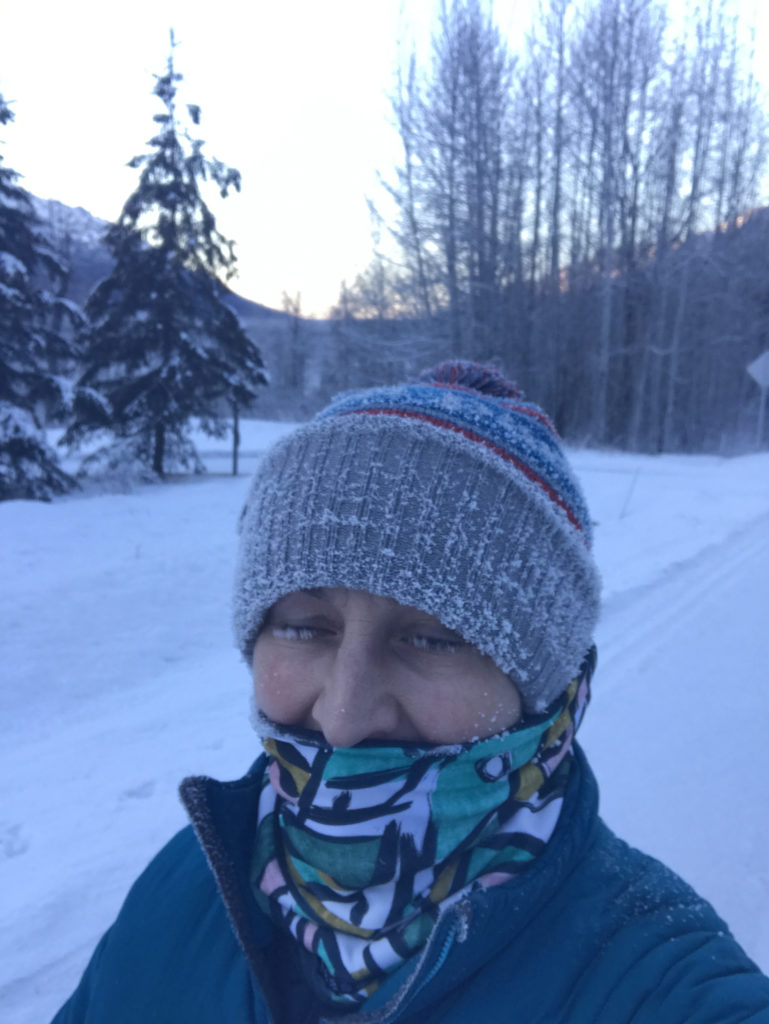 All in the name of training….
After my runs, I have been doing a few hip and leg strengthening exercises.  I also do a few minutes of core work as well. I have always been one of those runners that just likes to go out and run and then…nothing. Yep, nothing at all. I have realized that as I have gotten older, that just isn't going to work for me if I want to stay injury free.
So, exercises that I have been doing after my runs on most days include:
Clams
Lateral Leg raises
Donkey Kicks
Fire Hydrant
Pelvic Lift
For now, I am only doing one exercise for my core (some of those listed above do involve the core to some extent) which is planks – Straining a bit here…… got to  B-R-E-A-T-H-E!!! I do three sets for 1 minute each. It is a good start. I follow these exercises with some stretching.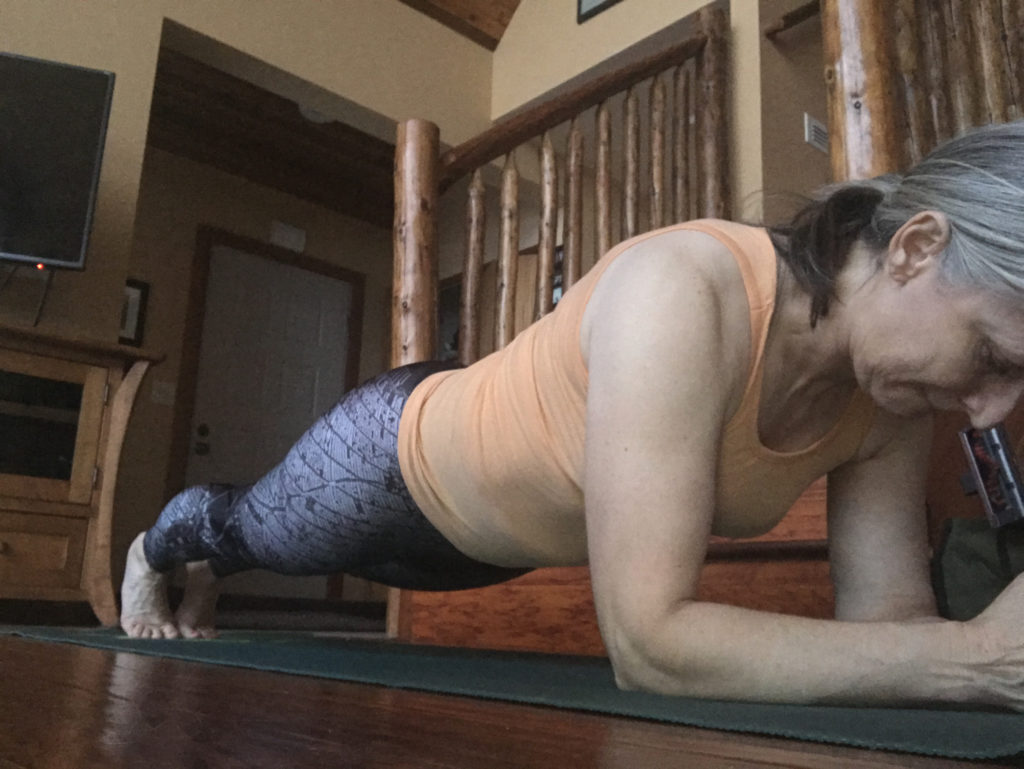 Another good exercise for stabilizing and strengthening hip muscles requires the use of a Bosu ball. With the soft, rounded side up, I stand on one leg for 1 minute then repeat for the other leg.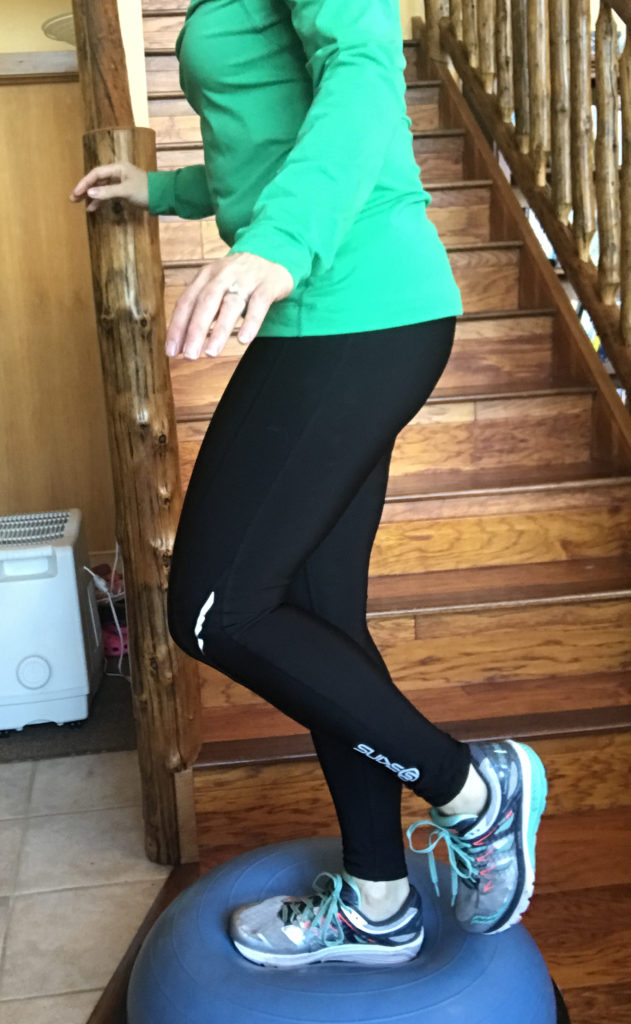 Initially, I couldn't maintain my balance for more than 10 seconds-oh yeah super weak hips! I can't do the full minute without falling at least once or twice plus I am a bit wobbly,  but I keep trying. It doesn't matter that you fall, it only matters that you try right? Sounds like something they would say in yoga 🙂
I will add other exercises as these become a little easier to do. It is all so time consuming and in addition to  these strength exercises, I am trying to get to yoga at least two times a week. I would prefer three but two is a good start. The problem with the yoga is that I'm very attached (even though attachment is something I should let go of as any good yogi would tell you) to my favorite place, Anchorage Yoga and my favorite Bikram teachers, which is 45 minutes away. I like to get there about 20 minutes early to adjust to the 105 degree room temperature and also to loosen up my legs a little before class. All that time is so worth it!
Yoga not only helps to build strength and flexibility but it is also such a positive environment. Our teacher asks the class to look at these poses as opportunities to improve and heal. One particular day he said that when he lets us know there are only 5 secs left (each pose is about 20 secs) that we do our own countdown of 5-4-3-2-1 very quickly and we come out of the pose early. I had to laugh because, yes that is me ha ha, but his point is to take advantage of this opportunity and stay in the pose longer instead of coming out of it too early. He says that even when you think you can't find more in the pose, there is always a little more that you can do. No one knows that better than marathon runners! We hit the wall at 22 miles and somehow find it within ourselves to run another 4+ miles!!! And as with NYC walk another how many to get out of the park?!?
I think yoga and running is going to be a good combination. And I am looking forward to another year of training for another marathon. I have heard such good things about Chicago. It's going to be awesome!