This week I learned a couple of things about myself in regards to running. I typically do not run on the days that I work because I am so exhausted by the time I get home. I wake up at 5 am so I can be on my way to work by 6 am, and I typically do not get home until around 8:30 pm. Not to mention, some days those little preemies kick my a**! I am beat after such a long day.  Its all I can do just to get in the shower! Fortunately, I only work 2 days a week (hey I'm old and nursing is hard work!!)
But, I want to run at least 5 days a week. I feel like that is what it is going to take for me to reach a BQ (there are other factors also of course). So, my plan was to take Tuesday off which I did, and then, I would do a little longer run on Friday, easy run on Saturday and take Sunday off. Being that I had to work the week-end, I was going to have to suck it up and do a run on one of those days after work. Yikes! How is that going to happen?
Well, I was out car shopping all day on Friday with Scott, and then he wanted to stop in at the  Peanut Farm to catch the Bruins hockey game. I had just picked up my truck from the shop (the one I am looking to replace) and could have gone home, but we haven't had much time together lately so I thought I would hang out with him. And of course, I was also thinking how am I going to get my run in.
Well, I was just going to have to suck it up and run after work! I just thought, don't even think about it, just plan it and do it!
So, the whole day at work when the thought of running after work entered my brain, I just pushed it out and told myself I am just going to run. And when I finally got home, I got dressed, did my warm-up and even though I felt exhausted, I headed out for my run. Just gonna take it slow and easy.
Once I got warmed up, I was amazed at how great I felt. The 5 miles felt almost effortless. But (pessimistic me), I would have to run a second day after work, and I wasn't sure how that was going to go. I was only planning to run 3 easy miles, and I had the same results. It was actually fun! Amazing that runs could go so well after working 12 hour shifts. So, I can't use I worked today as an excuse to not run.
I did have to add a new accessory to my running attire – bear bells! There has been sightings of bears already in the area. I haven't heard of any brown bears yet, but black bears are waking up. I am sure the brown bears are as well.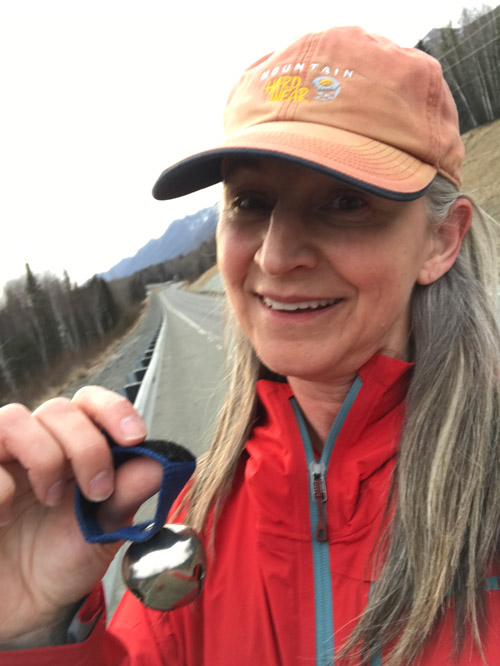 I live and run in bear country. These photos were taken last year on my running route.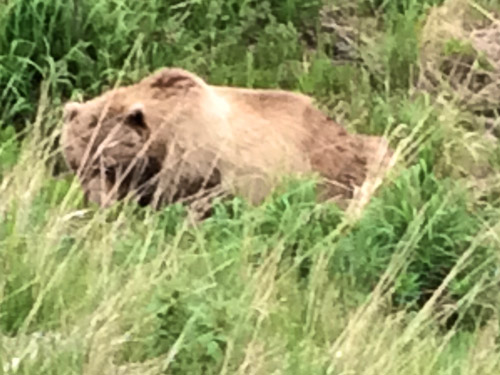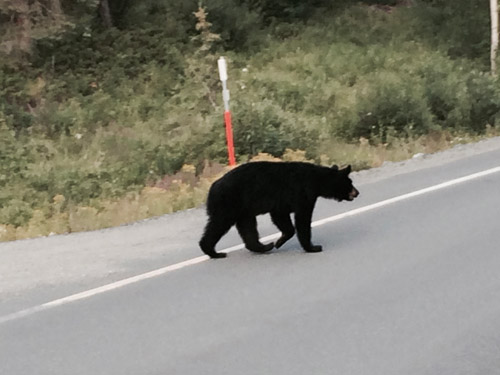 Another awesome thing about running after work is taking the time to enjoy sunsets: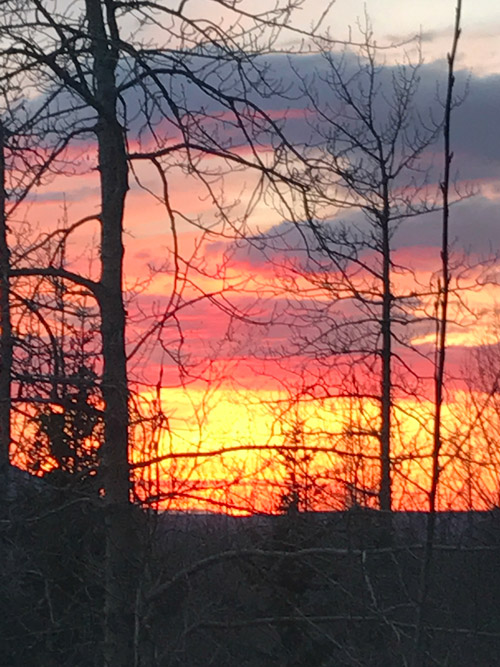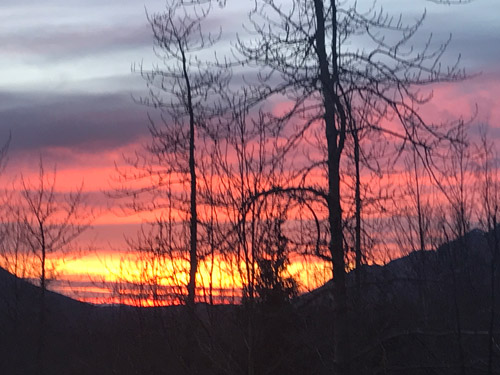 There is so much more to running than just out on the run.
My base training for this week:
Monday
4.1 miles in 39:51  Average pace at 9:42 (10:06, 9:50,9:27, 9:29)
My typical hill route, pushed a little bit up that last hill but not super hard. The rest of the run was at a fairly easy pace.
Tuesday
Off
Wednesday
5.01 miles in 49:49 Average pace 9:57 (10:03, 10:02, 9:54, 9:45, 10:02)
Super easy run, maybe it is time to start stepping it up a bit. I just really do not want to push myself too soon. The marathon training doesn't really start until June.
Thursday
4.01 miles in 26:37 Average pace 9:09 (9:33, 9:19, 8:41, 9:00)
I decided to push the pace a little but still stayed fairly relaxed. I did have to slow down on some of the steeper hills but all in all the run went really well. I feel like I need to find a flat route so that I can mix the training up a little bit. The trails are super muddy from the melting snow plus the bears are waking up so I get a little more nervous about running there.
Friday
Off
Saturday
5.01 miles in 48:40 Average pace 9:43 (9:54, 9:44, 9:34, 9:48)
Considering that I was running after a long day at work, I thought the run went really well as I had mentioned above. My plan was to take it nice and easy (not hurt myself ha ha) and it felt great.
Sunday
3.11 miles in 29:22 Average pace 9:27 (9:41, 9:12, 9:28)
I felt a little tired just from working, running, and little sleep, but the run actually went really well. A friend told me that "bears to not make the connection with bells because it is not a sound they understand….the human voice is what they recognize." She asked me if I could run and sing. ha ha So, I don't run with headphones – so dangerous! Don't Do It! But, I will sometimes let the music play on my iPhone just for the noise. And tonight I did both. Bear bells and music. And I did sing. That would scare anybody. And yes I did think about videoing it and sending it to my friend haha. But, then I thought that might be super rude.
And that wraps up another week of base training. This week I will get my running and training plans confirmed. Some decisions have to be made. Stay tuned 🙂
Total miles: 21.24